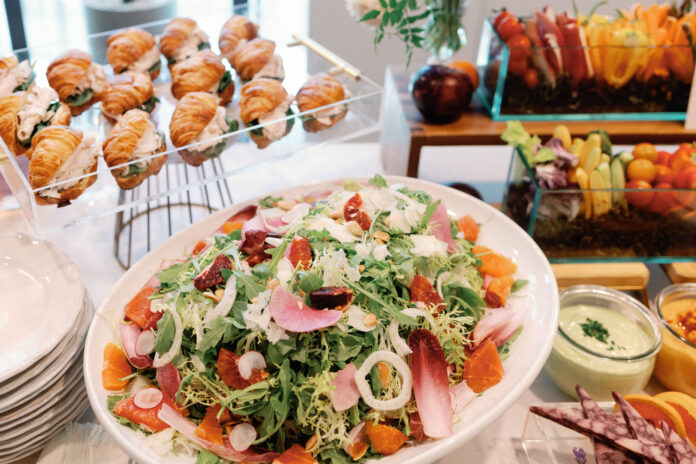 Recently, a group of women gathered for a rejuvenating spa day hosted by Loverly at Ciel Spa in Beverly Hills featuring not only relaxation but also a delightful brunch catered by yours truly. This carefully crafted seasonal meal added an extra touch of luxury to the day's activities.
The brunch spread showcased a variety of fresh fruits, baked goodies, and vibrant salads that perfectly captured the essence of the season. Each bite was a reminder of nature's abundance and the importance of wholesome nourishment.
What made this brunch even more special was the opportunity for the women to connect and unwind over a shared meal. Laughter and conversations flowed freely, creating a sense of camaraderie that elevated the spa experience.
The menu catered to different tastes and preferences, offering options like turkey and brie tea sandwiches and a living crudites station. Fruit-infused spa water and chilled bottles of Fleur de Mer wine were also on hand to keep everyone relaxed and revitalized.
In summary, this brunch wasn't just a meal; it was an integral part of a day dedicated to well-being and self-care. It highlighted the joy of savoring delicious food in good company, reminding us that taking care of ourselves involves both physical and mental nourishment.
VENDORS
Host: @loverly / Rosé: @fleurdemerrose / Candles: @snif.co / Stationery + Signage: @mintedweddings / Red Light Therapy Masks: @higherdose / Venue: @cielspabh
Producer: @beinspiredpr / Photographer: @lisettegatliff / Astrology: @asyarose13
Florist: @inessanicholsdesign / Rentals: @partypleasers / Catering: @colettescatering