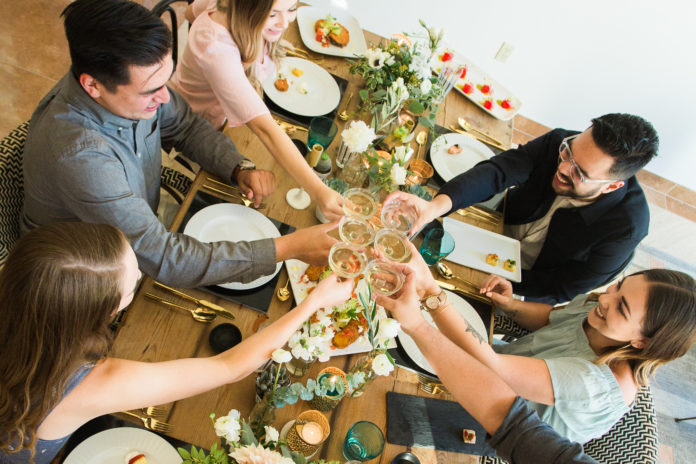 When we were planning our summer menu dinner party photo shoot, we initially only had plans to showcase our new menu items at one of our favorite new venues, FLDWRK. Then, the wheels started turning. How can we have a little fun with this?
Nick McClellan, the significant other of Kierstyn Rios, one of the dinner party attendees, surprised her mid-shoot and popped the question! It was a beautiful scene with friends and family surrounding the couple as the engagement was taking place.. and of course some happy tears all around! After Kierstyn said "YES!" everyone feasted on our summer favorites.
Scroll through the whole party to view our summer dishes, the engagement video and Mini Lobster Roll recipe!
HORS D' OEUVRES 
 Panisse
 Sweet Corn Succotash, Basil 
 Pan Roasted Duck Breast
 Balsamic Pickled Cherries, Goat Cheese Mousse,Black Pepper Shortbread, Mint 
 Lobster Roll
 Meyer Lemon Aioli, Chive, Mini Brioche Roll 
 Panko Eggplant
 Roasted Tomatoes, Zucchini, Bechamel, Herbs 
SALADS 
 Compressed Watermelon Salad
 Whipped Feta, Prosciutto, Radish, Pickled Onion,Mache, Frisee, Balsamic Gel, Olive Oil 
 Bourbon Blueberry Salad
 Grilled Peaches, Blue Cheese, Marcona Almonds, Arugula, Maple Champagne Vinaigrette 
DESSERTS 
 Petite Strawberry Shortcake
Local Strawberries, Buttermilk Cake, Fresh Whipped Cream 
Yuzu Crème Freeze
Frozen Yuzu Custard, Basil Marshmallow Crème, Yuzu Gel
Colette's Summer Menu turned Surprise Proposal Shoot from Boffo Video on Vimeo.
||| See more & the whole feature on California Wedding Day |||